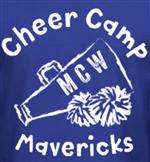 Maverick Cheer Squad
We are looking for at least 12 students, Kindergarten through 6th Grade, to join the Maverick Cheer Squad!
There will be two opportunities to cheer. The program fee will include a MCW Cheer T-shirt. Program fee is $30.00 if you want to participate in only one Cheer Camp, $50.00 for both Cheer Camp days.
SchoolPay: Maverick's Cheer Camp
Registration: Maverick's Cheer Camp Registration Form
Who: Kindergarten through 6th graders
When: December 9 for the Boys Basketball Game & December 16 for the Girls Basketball Game
Where: Dec 9 at MCW High School-Sherburn and Dec 16 at MCW Trimont Elementary
Time: Cheer Camp will start 3:30 until 5:30. We will learn some cheers and some sweet moves! Bring a bag supper or have concession supper from 5:30-6:30 (at your own expense). We will prep for the game and finish up with cheering at half-time of the Varsity game. Bussing will be available to shuttle to/from Sherburn/Trimont after school. Pick up after half-time is family responsibility. Per school policy, students K-6 should attend the duration of the game with an adult.
Question? Please contact MCW Community Education & Recreation at 507-764-2336